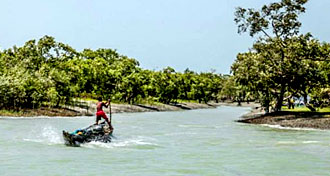 Tora is a Mangrove species (Aegialitis rotundifolia) found here and in Japanese TORA means "Tiger". Thus the name Tora came from the mangrove species which also means tiger.

The Name TORA :: Eco Resort and a village experience centre Bali Island : Sunderbans, signifies 4 important aspects - the mangrove, the village life experience, the conservation of the ecology and the tiger by the villagers.

Bali island, Sundarbans, West Bengal is under Gosaba Block of South 24 Parganas District. The island has 15 villages with about 37000 inhabitants. Fishing, honey collection, farming was their main occupation. With limited resources and growing population and needs, school dropout, illegal trade and constant pressure on the youth to look for alternative employment became rampant. WWF and West Bengal Forest department came in as part of their conservation attempts to wean people from dependence on forest resources and provide alternate source of income to the local people through community tourism and conservation activities. Bali nature and wild life conservation society.

Chief promoter of the society, Sri Anil Mistry a conservationist, donoted a piece of land on which 4 ethnic cottages were built. From this year, 2013 the Society joins hands with VIVADA, to lead this community based eocresort a new height with a vision to empower the community with basic facility.

Along with Vivada and Mr. Anil Mistry, is Lt. Col. Shakti Ranjan Banerjee (Rtd) a wild-lifer and naturalist who was the first initiator of this movement as Regional Director of WWF. He will play a major role in shaping up the young minds on forestry and conservation as well as training up the locals as forest guides, naturalists and in hospitality.

Come be a part of revolution where tourism will lead the Tiger and Forest conservation.