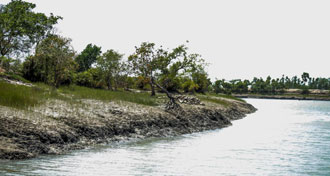 Sunderban Facts



Place: 24 Paraganas district, West Bengal

Best time to visit: September to March. The region has a tropical climate with hot summers and cold winters. Maximum and minimum temperatures during the summer are 42°C and 37°C respectively. In winters, the maximum and minimum temperatures are 29°C and 9.2°C respectively.


Nearest airport: Nearest airport is Netaji Subhas Chandra Bose International (NSCBI) Airport at Kolkata.

Main attraction: Royal Bengal Tiger, Crocodiles, Olive Ridley turtles, migratory birds.

Sunderbans Tiger Reserve:
Established in 1978 spread over an area of 2608 sq. kms.
Sixty percent of the demarcated area of the Sunderbans sprawling actually over 9630sq.km, is in Bangladesh.
The National Park with a core area of 1330sq.km, has been designated as a World Heritage Site in 1985 and is a part of the Project Tiger.
The Sunderban has three wildlife sanctuaries at Sajnekhali, Lothian Island and Haliday Island.
Travel Tips :
Carry all the basic medicines along.
Carry all the essentials including mosquito repellent cream, light clothes, sun hat, thick rubber sole boots etc.
The National Park with a core area of 1330sq.km, has been designated as a World Heritage Site in 1985 and is a part of the Project Tiger.
Don't forget your camera